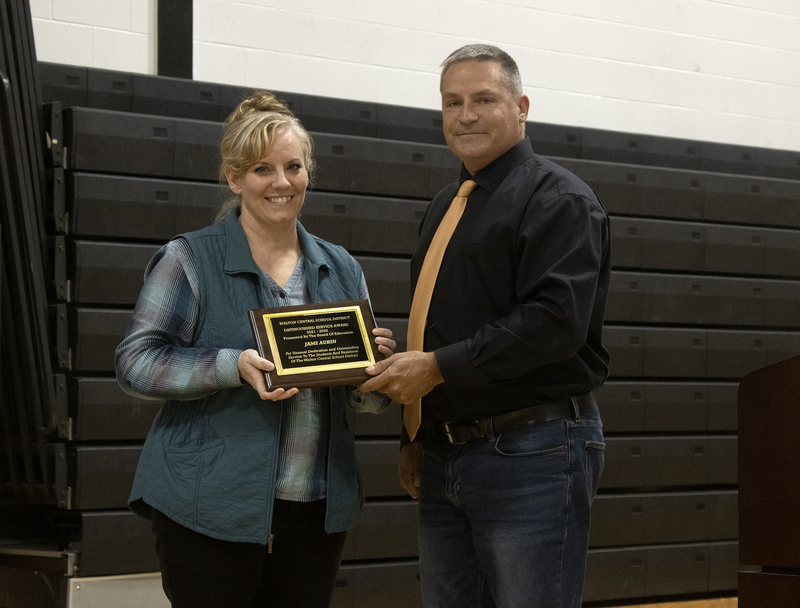 Distinguished Service Award recipient Jami Aubin and BOE President Graydon Dutcher.
This past fall, the Walton Central School District held its annual scholastic achievement awards ceremony, which were for the 2021-22 school year.
The Board of Education also gave out its annual Distinguished Service Award. BOE President Graydon Dutcher introduced winner Jami Aubin, who has served as an integral part of the elementary school for more than a decade.
A constant contributor above her job, she has been a huge part to the Townsend Elementary PTA. Included in this role are running fundraisers, as well as the Friday Fun Nights, book fairs, science fair, spelling bee, and spring carnival.
She also volunteers her own time as well to brighten up the school. She painted and updated the faculty room, making it a welcoming space. Jami and her mother also planted perennials in front of the school on a Saturday evening.
It's the 26th year the award has been given. The award is given to somebody who has gone above and beyond in service to the Walton Central School District. A list of past winners is below.
Following the award, many Walton students were honored for academic achievement for the 2021-22 school year. Students were recognized in all departments, including science, English/language, social studies, business, agriculture/technology, health/home and career/physical education, art, and music. Superintendent Awards were also handed out.
The list of those recognized is below. To see more photos, please visit our Facebook page.
Distinguished Service Award winners
2021-22: Jami Aubin
2020-21: Lori Cucciare
2019-20: Rick Robinson
2018-19: Corey Phraner
2017-18: Larry Light
2016-17: Robert Lang
2015-16: Dorothy Elmore
2014-15: Greg Graupman
2013-14: Rosie Greene
2012-13: Patrick Covell
2011-12: Tina Miner-James
2010-11: Dawn Northrup
2009-10: Frank Ward
2008-09: Jim Hoover
2007-08: George Shackelton
2006-07: Janet and Carl Gregory
2005-06: Andy Jackson
2004-05: Raymond Nichols
2003-04: Dr. George F. Mack
2002-03: Joanna Meade and Christina Hewitt
2001-02: Beverly Wright
2000-01: Peggy and George Bolton
1999-2000: Ron Galley
1998-99: Florence McNeil
1997-98: Lovey Kopetz
1996-97: Diane Meredith
Math
Brynlee Hunt
Kennedy Williams
Addyson VanValkenburg
Anika Fassler
Alivia Conklin
Aubrie Green
Marcus Marano
Maisy Rhinehart
Joshua Gladstone
Aiden Branigan
Elijah Williams
Kylie Wood
Maxwell Dutcher
Grace Healey
Leah Ferguson
Joseph Fay
David Gatchalian
Jonica Green
Caragh O'Connor
Aiden Chambers
Gianni Marano
Makara MacGibbon
Caden LeBarge
Kerenna Jacobs
Science
Kennedy Williams
Paige LeBarge
Kai Storrer
Marcus Marano
Angelas Mills
Arwen Tracey
Elijah Williams
Kahrin Vesterfelt
Caragh O'Connor
Sabastion Thompson
Dominick Armstrong
Brianna D'Addezio
Rachel Trimbell
Havyn Merwin
Makara MacGibbon (2)
Faith Lambert
Abigail Seguare
David Gatchalian (2)
Jonica Green
Ransom Dutcher
Kerenna Jacobs
Social Studies
Annalia Yetto
Reaghan VanTyle
Esther Salvia
Christian Hanrahan
Marcus Marano
Maisy Rhinehart
Kylie Wood (2)
Blair Brown
Maddison Barnes
Addyson Trimbell
Daniel Sullivan
David Gatchalian
Isabelle Driscoll
Rachel Trimbell
Gianni Marano
Abigail Brown
Meka Merwin
Makara MacGibbon
Daxtin Nichols
Logan Aubin
Ava Coons
Brianna D'Addezio
Troy Angevine
English/Language
Jacob Constable
Levi McDonald
Mayla Evans
Ava Merwin
Kennedy Williams
Lila Trimbell
Marcus Marano
Maisy Rhinehart
Aiden Branigan
Delaney Kilmurray
Elijah Williams (2)
Chasidy Constable
Emma Thomson
David Gatchalian (2)
Makenna MacGibbon (2)
Ella Rhinehart
Jonica Green
Dylan Ackerman
Aiden Chambers
Jaden Serra
Madison VanFossen
Alivia Conklin
Raegan Foster
Kylie Wood
Kaiden Kirkland
Graham Picinich
Caragh O'Connor
Addyson Trimbell
Allene Vesterfelt
Gianni Marano
Health/Physical Education/Home and Careers
Ryder Stone
Aubrie Green
Caroline Gorence
Dominick Armstrong
Brynlee Hunt (2)
Grace Walley
Kylie Wood (2)
Addyson Trimbell
Ella Rhinehart
Kerenna Jacobs
Corbin Walley
Parker Cash
Aiden Branigan
Jaden Serra
David Gatchalian
Ransom Dutcher
Annalia Yetto
Elijah Williams
Jordan Covey (2)
Logan Aubin
Aurora Siniscalchi
Agriculture/Technology
Hannah Velardi
Peyton Pettit
Havyn Merwin
Akyra Barriger
Leah Ferguson
Landon Taylor
Mackenzie Backus (2)
Ava Coons
Kaitlyn Wood
Alivia Conklin
Tripp Taylor
Elijah Williams
Kahrin Vesterfelt
David Gatchalian
Faith Lambert
Ella Rhinehart
Elijah Jones
Art
Annalia Yetto
Eilis Owens
Alivia Conklin
Marcus Marano
Hannah Velardi
Aiden Chambers
Addison Yetto
Faith Lambert
Briana Morales
Olivia Murphy
Isabelle Driscoll (2)
Adara Allen
Kyndra Church
Havyn Merwin
Emilie Bregenborg
Music
Mayla Evans
Annalia Yetto
Maisy Rhinehart
Natalie Hoffman
Elijah Williams
Kai Storrer
Elizabeth Richards
Paige Moody
Gavin Harrington
Ella Campbell
Ella Rhinehart
Caroline Gorence
Liam Kane
Michael Clark
Lilyanna Klinegardner
Chasidy Constable
Caden LeBarge
David Brooks
Superintendent's Award
Ava Hoover
Jacob Constable
Mayla Evans
Anika Fassler
Brynlee Hunt
Liam Kane
Paige LeBarge
Ava Merwin
Esther Salvia
Lila Trimbell
Kennedy Williams
Annalia Yetto
Alivia Conklin
Parker MacGibbon
Marcus Marano
Maisy Rhinehart
Ryder Stone
Kai Storrer
Chasidy Constable
Katelynn Gregory
Gavin Harrington
Carter McNamara
Kahrin Vesterfelt
Elijah Williams
Delana Wood
Kylie Wood
Jordan Covey
Caragh O'Connor
Aurora Siniscalchi
Addyson Trimbell
David Gatchalian
Caroline Gorence
Jonica Green
Isabella Yetto
Makara MacGibbon
Elizabeth Richards