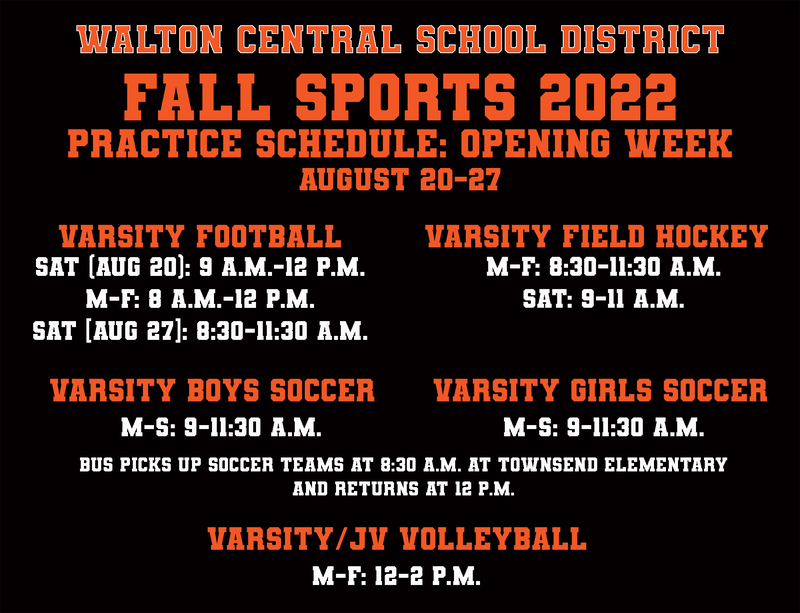 There is a change for parking and drop off for any practices, contests or scrimmages taking place on site. Student-athletes will need to park or be dropped off on Maple Street. They will then need to proceed to the end of Maple Street and walk along the soccer field up to the entrance between the middle and high school (across from the breezeway). If you drive yourself, please be sure you are not parked on a lawn or blocking a driveway on Maple Street. Coaches will communicate any other changes with their teams.
Student-athletes playing on our boys or girls soccer teams will be transported to and from their practices in Downsville from the back parking lot at Townsend Elementary.
Field Hockey
August 22-August 26: 8:30-11:30 a.m.
August 27: 9-11 a.m.
Football
August 20: 9 a.m.-12 p.m.
August 22-August 26: 8 a.m.-12 p.m.
August 27: 8-11:30 a.m.
Boys/Girls Soccer
August 22-August 27: 9-11 AM [bus leaves Townsend at 8:30 a.m.]
Volleyball
August 22-August 26: 12-2 p.m.
REMINDER: Make sure to have your parental permission forms and physical complete, up to date, and handed in to the nurse's office. You will not be able to practice until everything is handed in.