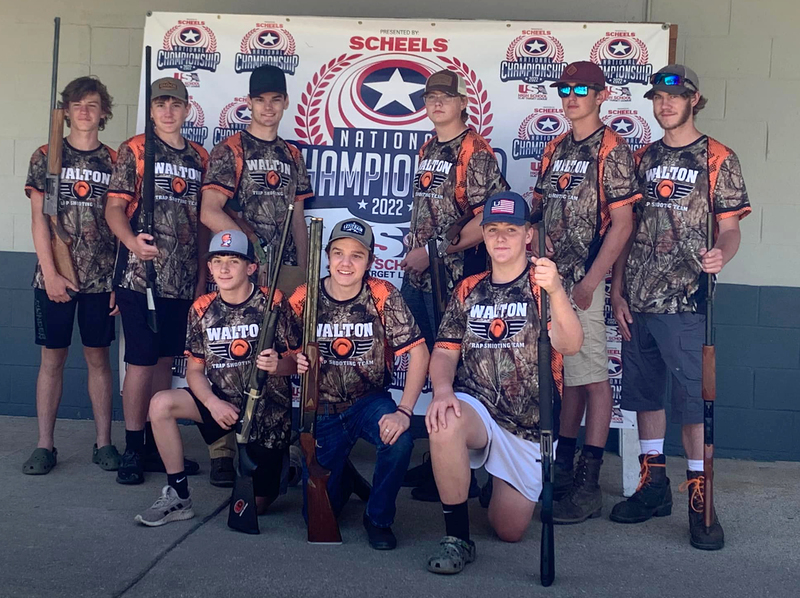 Front (from left): Hayden Robinson, Gavin Little, and Jesse Newell (did not compete). Back (from left): Freddie Becker, Carter McNamara, Peyton Tweedie, Reece Yeomans, Steven Brown, and Tucker Reynolds-Ives.

The Walton CSD trap team had eight students compete at the National Trap competition earlier this month.
This was the first year Walton, which combined with Sidney and other area schools, sent a full team to the competition, and finished 198 out of 280. Two students – Walton's Peyton Tweedie and Sidney's Reece Yeomans – reached the finals on the final day.
Individually, the team had eight compete at the event.
Tweedie had the highest finish, placing 346 out of 1,716 in qualifying with a 94. In the finals, which featured 1,454 competitors, Tweedie finished 232nd by scoring 96, for a 190 overall. That also included him earning his 50 patch, which is hitting 50 consecutive targets.
Yeomans had a 94 in qualifying (381st) and a 75 in the final for a 169 total. He earned his 25 patch. He finished 398th overall.
Also competing, but not making the finals (with their scores in qualifying) , were Carter McNamara (86), Gavin Little (83), Freddie Becker (80), Hayden Robinson (78), Steven Brown (75), and Tucker Reynolds-Ives (71).