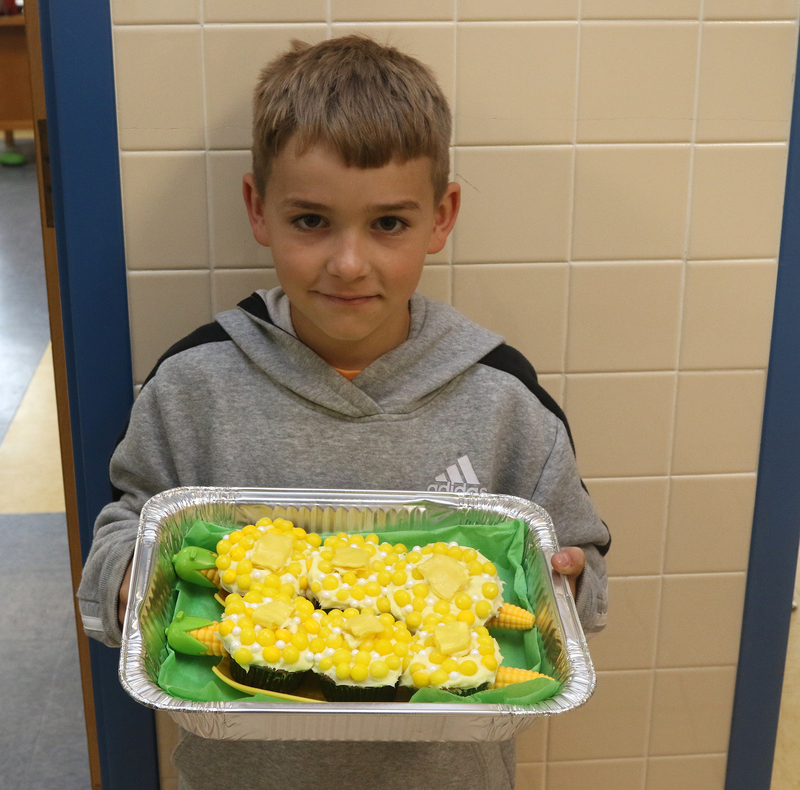 Liam Gregory showing off his lemon corn on the cob cupcakes!
The annual Cupcake Wars held in Tina Ammon's second-grade class took place during the last week of school, though this year it expanded as all three second-grade classes took part.
Each class awarded its winners, which are listed below. Some incredible designs and flavors were presented to the judges!
Great job by all students who took part!
Check out our Facebook page for a full gallery of photos!
Winners:
Mrs. Ammon's room:
Best tasting: Liam Gregory (lemon corn on the cob)
Best presentation: Travis Terry Jr. (hamburger cupcakes)
Most original flavor: Wilder Taylor (fruit pizza)
Mrs. Evans' room:
Best tasting: Kinley Fairchild (Mickey Mouse on the beach)
Best presentation: Ryder Sweeney (candy cupcake)
Most original flavor: Gabe Neumann (robot cupcakes)
Mrs. Wist's room:
Best tasting: Taylor Gransbury (vanilla with vanilla frosting-watermelon)
Best presentation: Duncan Thompson (funfetti with vanilla frosting - Mad Cookie Monster)
Most original flavor: Kenneth Edwards (banana funfetti with vanilla frosting)