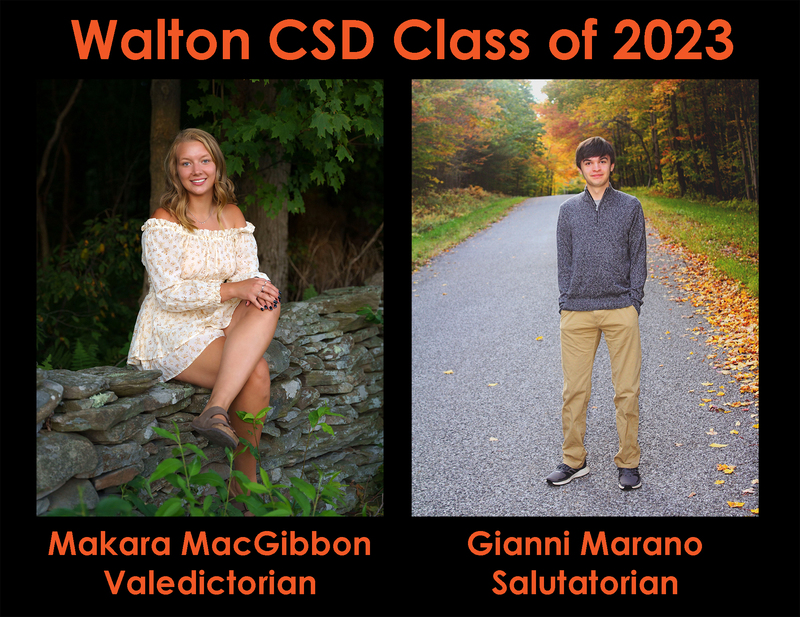 The Walton Central School District has announced its valedictorian and salutatorian for the Class of 2023.
The valedictorian is Makara MacGibbon and the salutatorian is Gianni Marano. Each is scheduled to speak during the annual graduation ceremony, which is scheduled for June 24.
Valedictorian
A highly active student, MacGibbon has excelled academically while remaining involved with athletics and clubs at Walton CSD.
Consistently on the Superintendent's List, MacGibbon has received academic awards in trigonometry, Spanish 3, 3D sculpture, AP psychology, anatomy, forensics, pre-calculus, and Spanish 4. She's also been recognized as the MAC scholar-athlete for soccer and basketball.
A member of the National Honor Society, she also is involved with FBLA and the travel club. She also serves as a class officer.
Athletically, MacGibbon has played varsity basketball for five years and varsity soccer for four. She earned the MVP for basketball in 2021.
Outside of school she's a member of the This n' That Country Crew 4H Club, and was awarded the winning reserve master cattle showman at the Delaware County Fair.
MacGibbon, who plans to serve in the Army Reserves for six years while attending college to study psychology, is the daughter of Matt MacGibbon.
Salutatorian
Marano has challenged himself academically and has also been active in clubs at the school.
As a consistent student on the Superintendent's List, Marano is a member of the National Honor Society and has received academic awards of excellence and achievement in a multitude of classes. He's also received the Superintendent's Award.
Marano serves as the band treasurer, and is also active in student council, all-county band, NYSSMA, and area all-state. He's the treasurer for the national Honor Society.
He's also had the chance to see Hamilton twice, and is a self-proclaimed No. 1 fan of Phil Collins and a "silly goose."
The son of Karla and John Marano, he has plans to likely major in history in college. He is undecided on which college.