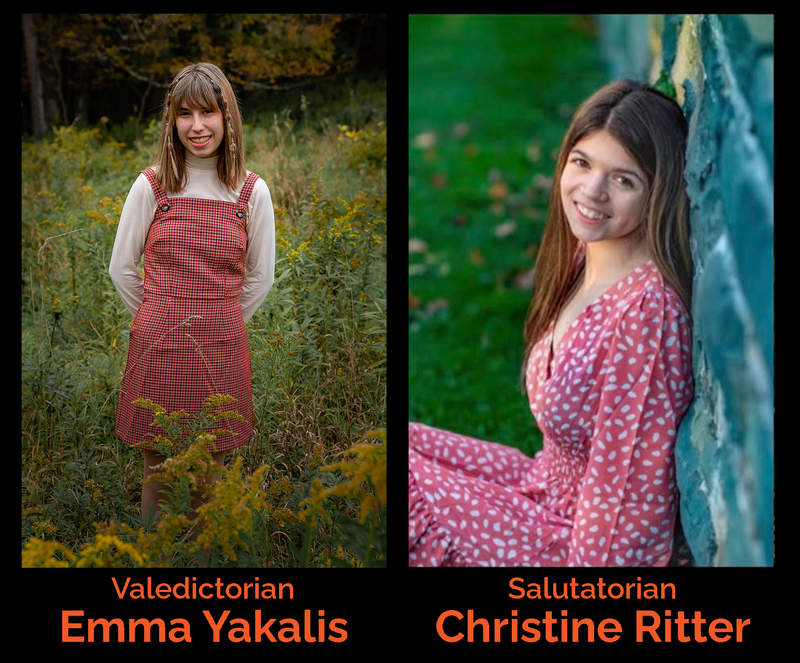 The Walton Central School District has announced its valedictorian and salutatorian for the Class of 2022.
The valedictorian is Emma Yakalis and the salutatorian is Christine Ritter. Each is scheduled to speak during the annual graduation ceremony, which is scheduled for June 25.
Valedictorian
An active student, Yakalis has been involved with several clubs and has been a regular among the musical performances at Walton.
A regular winner of the Superintendent's Award, she is involved in the pep band, AVP, as well as the school musical productions.
She also scored high in NYSSMA, where she received a 96 out of 100 on a Level IV solo.
Yakalis, who plans to study sound recording technology in college, is the daughter of Matthew Yakalis and Jacqueline Huyck.
Salutatorian
Ritter is a strong student who stays active in many activities, all while holding a steady job for the past two years.
Academically, she is consistently on the Superintendent's List and is also a member of the National Honor Society. She has also earned academic excellence awards in subjects such as trigonometry, global studies, and psychology. She has been selected as an area all-state participant and has earned numerous NYSSMA awards.
Extra-curriculars run a wide range of interests, including speech and debate club, student council, yearbook, GSA, and travel club. She has also served as a class officer since ninth grade.
The daughter of Michael Ritter and Wendy Kosco, Ritter's legal guardian is Ellen Nary. She plans to study mathematics in college.
Honor graduates
Walton has also announced its top honor graduates and they are as follows:
Brieanne Babcock (daughter of Mark and Maureen Babcock), Garrett Day (son of Jodie and David Day), Blaine Klinger (son of Butch and Priscilla Klinger), Sariah Vesterfelt (daughter of Rachel and Christian Vesterfelt), Ceara Robinson (daughter of Melissa and Tim Robinson), Sophia Piro (daughter of Cathy Hoffman and Stephen Piro), Madison Greene (daughter of Walter and Dawn Greene), Madison Serra (daughter of Erin and Marc Serra), Annaliese DelBalso (daughter of Michael and Jessica DelBalso), Jeremiah Harrington (son of Michael and Cindy Harrington), Jorge DelPino (son of Julissa Mirabal), Katelynn Brooks (daughter of Gary and Jacquelynn Brooks), Molly McClenon (daughter of Walter McClenon and Rhonda McClenon), Alexis O'Connor (daughter of Deanna O'Connor and William O'Connor), Keilie Dones (daughter of Crystal Zimmerman and Marcos Dones), Emma Hall (daughter of Chad Hall and Leah Campbell).